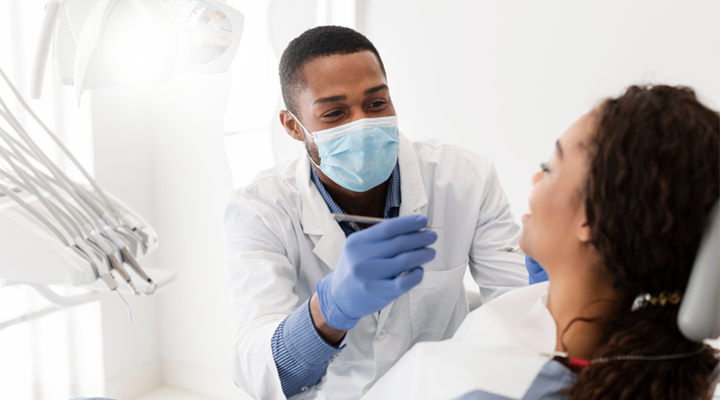 For generations, people of color have faced barriers in accessing health and oral health care within the U.S. As recently as the 1960's, segregated health care facilities provided sub-par care and environments for minority patients and denied physician privileges to minority doctors. To this day, neighborhood segregation is linked to poor health outcomes, lower quality of care, and the increased likelihood of hospital closings in communities of color.
Medical mistrust refers to the distrust of the medical system, health care professionals and treatments. A history of unethical medical research, reinforced by inequality of care and racial disparities in pain management, makes many members of the Black community hesitate before walking into a medical office.
Disproportionate numbers offer insights
In Colorado, Black people have the highest dental insurance coverage among all racial groups at 81.7%. However, with just 56.1% of Black Coloradans visiting a dental professional in 2019, they are the least likely to visit a dental professional (2019 Colorado Health Access Survey). The data implies that there is a disconnect, and a lack of diversity in the workforce is a significant part of the problem.
According to a 2015 study by the American Dental Association, only 3.8% of dentists are Black, even though Black people make up 12% of the population. Similarly, only 5.2% of dentists are Hispanic, even though Hispanics make up 17.7% of the population. The disproportionate number of dentists of color is also evidence of systemic barriers that they face in trying to study dentistry.
For Hispanics, language creates a divide within the population's oral health outcomes. This study found that Spanish-speaking Hispanics presented the worst oral health outcomes, followed by Blacks. In turn, English-speaking Hispanics fared better than Black people, but not as well as Non-Hispanic whites.
Having worked as a translator and as a health educator, I understand the importance of being able to communicate with a health care professional. Having stood in the gap to translate for individuals, I've also witnessed the fact that having a translator is both a bridge and a barrier as it can be a distraction from the experience that's meant to happen between the patient and the health care professional.
Minorities will be the majority in 2043
It's projected that by the year 2043, racial and ethnic minorities will become the majority for the first time in the history of our nation. Minorities, now 37% of the U.S. population, are projected to collectively make up 57% of the population in 2060. For comparison, in 2016, only 15.2% of dental school applicants were underrepresented minorities.
Colorado Mountain College (CMC) and the Colorado Mountain College Foundation are hoping to change those statistics by focusing on encouraging local Hispanics and women to consider dental hygiene as a profession. They've assessed and tackled barriers by providing an affordable local education option, creating specialized curriculum and coursework, and recruiting professional mentors to guide and support students interested in pursuing a career as an independent dental hygienist.
CMC has partnered with Castle Peak Dental in Eagle, CO to provide training opportunities for students. The hygienists' training will provide basic oral health services to low-income Hispanic/Latino adults and children, and adults aged 60 and over. This promotes equity by giving Hispanics and first-generation college attending women a pathway to become local business owners within their own communities. This is happening in a region where there is a shortage of bilingual dental health professionals able to work with the growing Hispanic community.
It's important to note that cultural competency, the ability to understand and interact with people from other backgrounds and cultures, isn't bound by race. When a medical or dental school cohort is made up of a diverse group of individuals it increases the likelihood that each student will build awareness and an ability to respond to patients with differing cultures and values. However, if minorities continue to be so starkly underrepresented within these fields, these disparities aren't going to change.
With the population shifting, a diverse and culturally competent workforce is more crucial than ever. These health care workers bring a wealth of attributes such as being able to communicate with patients in their native language and connecting with them over shared experiences and cultural events. This strengthens the relationships and ties that encourage a long-term medical or dental home, supporting the well-being of entire communities that have been historically overlooked. Breaking down systemic racism is complex, but creating greater diversity within the medical and dental workforce is a strong start.
Delta Dental of Colorado Foundation is committed to addressing oral health inequities. Our staff is strategizing how to diversify the dental workforce in Colorado. Learn more at: https://www.deltadentalcofoundation.org/.
Veronica Contreras de Raya is the Communications and Graphic Design Specialist for Delta Dental of Colorado Foundation. Our mission is to elevate the well-being of all Coloradans by advancing oral health equity. We are improving access to comprehensive oral health care, promoting systems and support services that prevent tooth decay, and emphasizing the vital connection of oral health to overall health.